$ 34.99
The Waxmaid Nectar Collector is carefully made to work really well with substances like BHO, wax, and essential oils. It has a special part that helps cool down the smoke before you breathe it in, making sure it's clean and pure every time. This special design lets you get the most out of your concentrates whenever you use it.
Features
The Waxmaid Capsule Nectar Collector comes with a titanium nail tip. You can easily attach the silicone body to the titanium nail for a smooth dabbing experience that's more convenient than other options.

The Waxmaid Capsule Nectar Collector has a flexible silicone body that connects to a sturdy glass chamber where the smoke collects. This design makes it easy to see how much smoke there is. You can add and keep water in the glass chamber without any spills. The glass chamber filters the smoke with water, like in a dab rig, but it's still portable. This setup gives you bigger and smoother hits for a better experience.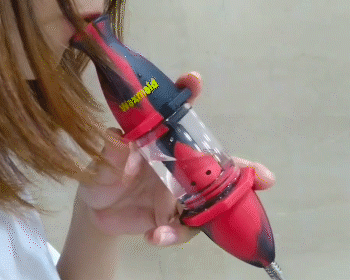 In the glass chamber, smoke goes through four small holes, moves through the water, and gets cooler before you breathe it in. This makes sure that every time you use it, you get a smooth and easy breath.

The Waxmaid Capsule Nectar Collector is made from a special kind of silicone that's safe for food. It meets the same standards as things we use in cooking, and it's even safer than what the FDA says is okay.

The design combines silicone and glass and it's easy to take apart and clean. You can take it with you wherever you go.

The way Waxmaid made this is unique and they have a patent for it. Other similar things you might see are copies of this original design!
How to use a Waxmaid Capsule nectar collector?
For safe delivery, we've set up the dab stick/tip of the Waxmaid Nectar Collector in a special way. When you unpack it, make sure to take off the dab stick/tip and put it back on the right way. It should fit tightly before you heat it up. If you don't do this, it might come off and could damage things if it touches them..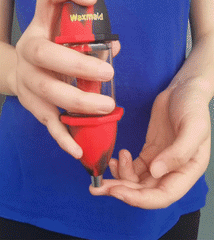 How to clean Waxmaid Capsule nectar collector?
Take apart the glass chamber from the Waxmaid Capsule nectar collector.

Put the glass chamber in a bag you can seal.

Pour alcohol that's at least 70% strong into the bag and add some coarse salt.

Shake the bag until the liquid turns dirty brown.

For the silicone part of the Waxmaid Capsule nectar collector, you can clean it with dish soap using a brush, or you can even put it in the dishwasher because silicone is safe for dishwashers.